YOUTH VOICE AND PERSPECTIVE - CONSULTANTS FOR MY CAMPAIGN!
BILLY BEAUREGARD:
Billy is a Salem High School student and environmental activist. He is the Vice President of his class and the Co-President of the Student Council. He is involved with the National Green School Society, and is interested in pursuing a career in environmental engineering. He has also volunteered for the high school internship program that focuses on sustainability and environmental concerns.
ANYFERN GONZALEZ
Anyfern is also a Salem High School student, class officer, and a member of the Student Council. Her focus is on politics and community involvement and advocacy. She was recently awarded the Rising Leader Award from Voices Against Injustice, and also received a grant from the Nellie Mae Education Foundation. In addition she was an intern at "Open Door Immigration Services" here in Salem, and is interested in pursuing a career as an immigrant rights attorney.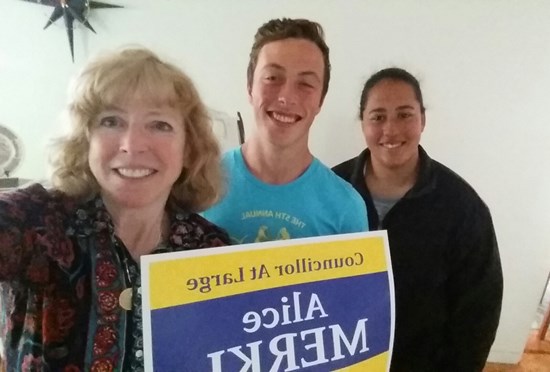 OUR FIRST MEETING!
It was such a pleasure to meet with Anyfern and Billy, and get to know these impressive students! Billy educated me about programs at the high school to educate the students about environmental concerns and sustainability. He told me about the Sustainability Labs and internship programs. He also talked about their "Outdoor Farm". His main concern is the current environmental crisis we are facing, and the need for education and advocacy to aggressively take steps to protect our environment and address coastal resiliency. We talked about the need to motivate more students to get involved, and increased support from the school administration. I mentioned the environmental advocacy groups we have here in Salem (such as SERC, SAFE, The Conservation Comm, etc), and maybe coordinating presentations/events at the high school to educate the students and encourage involvement!
Anyfern talked about her advocacy for the needs of the Latino community here in Salem. It was impressive to hear about her intern work with them as it provides various legal services and assistance. She educated me about the ESL program at school, and talked about how she felt these classes being completely separate from English speaking classes wasn't as beneficial as the inclusionary classes available in the lower grades. She also thought there is a need for the students' families to be better informed of the services at the schools for the Latino community and the assistance available to them. She expressed her worry about the student to teacher Hispanic ratio in the high school as that contributed to the data she used in her research earlier this year.
Both students felt since the recent administrative turnovers, and the problem of the lack of communication with students and parents, there has been some improvement in communication and has also resulted in more involvement from the students. They also would like to see the issue of low attendance at school be addressed, and that better transportation service would help.
I want to again give a big thank you to Anyfern and Billy! I'm so impressed by their knowledge and passion, and look forward to our next meeting and their ongoing perspective and input!
STAY TUNED!
UPDATE! Happy high school graduation! Please check out the article below in the Salem News from 6/8 about the Salem High School graduation where "salutatorian Bill Beauregard spoke about his Salem High community":
https://www.salemnews.com/news/graduation-marks-new-beginning-for-salem-high-class-of/article_44a7fe16-89a8-11e9-9de5-871fe82cb904.html
DEFINING MOMENTS
Salem High sends off 225 for new beginnings
By Dustin Luca Staff Writer
SALEM — "Commencement," class president Nick Angeramo said, is defined by the Cambridge Dictionary as "the beginning of something."
A solid 225 seniors defined their first steps toward adulthood while exiting Salem High School to the cheers of a packed field house Friday night.
Continued from Page 1 Angeramo highlighted the ceremony as "only the beginning" with his lean on Cambridge. Then dissecting the definition, he told his peers to "dive head-first on whatever path you have chosen to embark on. Set goals for yourself, stay driven and motivated, and strive to make a difference in the community around you."
Community was another major point Angeramo drove home as he highlighted the "people of various ethnicities, socioeconomic backgrounds, and sexual orientations" filling out the Witch City.
"This provides us with the opportunity to interact with people from all different backgrounds and learn from each other's differences," he said. "It's because of these differences that we are better equipped to see the nuances of multiple perspectives when solving problems and can come together as one and thrive in this ever-changing world."
Not skipping a beat, salutatorian Billy Beauregard went on to define community — borrowing his words from Merriam-Webster — as "a unified body of individuals."
"Sitting in front of me today, I see a group of individuals that has grown together and supported each other through the years," Beauregard said. "I see a group of individuals that has matured from when we first walked into this building, a group that is ready for the next step in life. I see a group of individuals that has made the Salem High community a better place."
And though the graduating body isn't much more than a collective of individuals — "we are sons and daughters, brothers and sisters, dreamers and doers" — Beauregard told the graduates to not lose sight of the collective.
"We are all of these amazing things, but somehow, when we come together as a community, we become something even more incredible," he said. "We become an agent of change, a support system for both ourselves and others, a body that enhances the lives of everyone around us."
Senior orator Maggi Smart also touched on the community and vibrancy of color at Salem High in her remarks.
"Perhaps the greatest part of Salem High School is the breadth of nationalities, languages and cultures present," Smart said. "The magnitude of the diversity of this school can be seen here today, and it can be shown even by the number of different paths the class of 2019 will endeavor on once we step out of these doors tonight."